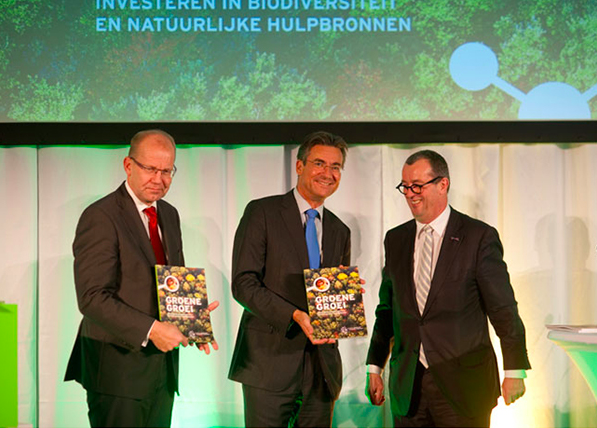 TASKFORCE BIODIVERSITY AND NATURAL RESOURCES
In 2011, &MAES worked on the presentation of the report Green Growth.
In 2009 the Taskforce Biodiversity and Natural Resources was created, commissioned by the Ministry of Agriculture, Nature and Food Safety, the Ministry of Public Housing, Spatial Planning and Environment and the Ministry of Economic Affairs. This particular project derived from the Policy program on Diversity (2007) and the call for Leaders for Nature, initiated by IUCN NL (2006).
The members of the Taskforce jointly wrote the final recommendation under the title Green Growth. That advice was offered to Minister of Economic Affairs Maxime Verhagen, State Secretary for Spatial Planning and the Environment Joop Atsma, Bernard Wientjes (chair of VNO-NCW) and representatives of the environmentalist movement during a CEO-dinner and the closing ceremony of the Taskforce.
Strategic communication, organizing and moderation
&MAES advised the Taskforce on strategic communication. In addition, &MAES also moderated, developed and organized the CEO-dinner and the closing ceremony of the Taskforce.